AUGUST STUPIDITY WINNER: AP PRESS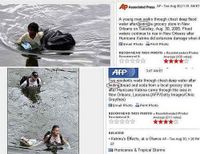 AUGUST STUPIDITY AWARD WINNER:

For the Idiots that shot these pictures, captioned them at all, and to the editors, publishers who had a hand in putting this crap out there.
First off no one knows what either person is or is not doing. and it really doesnt matter at this point. The facts are that these people are in trouble, there lives have been turned upside down and will take years to fix. The fact that AP and others chosse to make this a racial matter is by far the Stupidest thing I have ever heard of. When these photos were taken I think both of these individuals were in need of the items that they "Found or Looted", they both have been thru hell. And I say that anyone out there that is taken in by the BS that the media has made of these pictures gets runner up to AP Award.